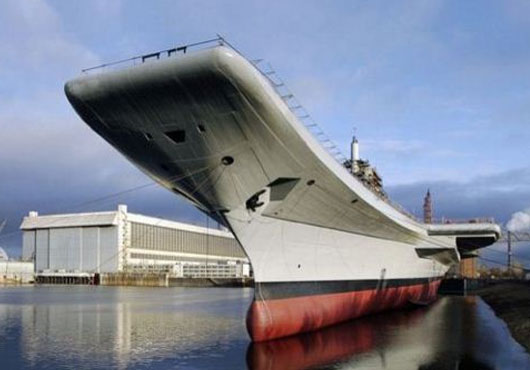 Momentous event for the aircraft carrier INS Vikramaditya took place recently as the Fighter's wheels touched the deck for the first time.
MiG-29KUB, piloted by the hero of the Russian Federation, honored test pilot of the RF, Colonel, Nikolay Diorditsa made a few approaches over the ship at different heights and touched the deck for the first time. After that the test pilot of the Russian Aircraft Manufacturing Corporation MiG successfully placed the fighter in a pattern trajectory and touched the deck two times more for another ten minutes.
Nikolay Diorditsa and Mikhail Belyaev are deemed among the leading test pilots who are supposed to carry out the first landing of the aircraft on board Vikramaditya.
The contract for modernization of aircraft-carrying cruiser Admiral Gorshkov (renamed into INS Vikramaditya) for Indian Navy was tied in 2004. It became the largest export contract in Russian-Indian military technical cooperation. Initially, modernization was evaluated as $616 mln, and the ship was planned to join Indian Navy in 2008. However, due to increased scope of works, the ship's delivery date was postponed for 2012.
More than 400 subcontractors were involved in the project, including 10 Indian companies which supplied communication systems, protective coating, a telephone exchange, life rafts, pumps, hygiene and galley equipment, and many more.
The INS Vikramaditya would be a 90-per cent new ship and remain in service for 40 years after all the major retrofitting has been completed.
Naval Today Staff, August 8, 2012; Image: Flick